Thoughtful, smart & practical kitchens created by designers
Celebrating over 25 years of home renovation sydney wide
Your one stop shop for kitchen renovation
From your initial consultation to completion, we will be there to project manage your kitchen renovation every step of the way. By offering a complete end to end solution to your kitchen renovation, we will minimise the stress and inconvenience to your everyday life during your kitchen renovation process.
Light-weight engineered stone experts
Do you want to revamp your kitchen space without having to deal with the fuss of a full removal? Our one-of-a-kind kitchen facelift service, that includes new colours, finishes, and appliances, takes care of it all to give you a stylish, updated space.

Warranty
Our warranty covers our benchtop workmanship for seven years, and 10 years for materials.

Floors
Offering superior durability and practically, our stone is suitable as a flooring surface. Installed directly over existing flooring with no need for removing tiles.

Wall Surface
As functional and beautiful for wall surfaces as it is for benchtops or flooring. Our stone is resistant to water stains and scratches - making it the perfect choice for interior walls, especially for your kitchen areas.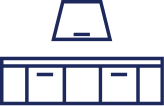 Benchtops
Resurface old benchtops or install new - our non-porous surfaces are perfectly suited for residential and commercial kitchen areas
Create your dream space
Our home renovation solutions.
Ready to reinvent your kitchen? Just give us a call!
Have a project? Get in touch!
Free on-site kitchen and bathroom design consultation & quote
Free online kitchen renovation estimate
Visit our showroom
Conveniently located in the heart of Sydney Northern beaches, you can view our various kitchen & bathroom renovation design concepts to explore the functionality of our products.